---

Click here for information
on this inspiring book.
Jonathan Tisch was the former Vice Chair of The Welfare to Work Partnership's Executive Board.
New! Youth Offender Demonstration Project ( YODP) Results
Since March 2003:
These Youth Offenders and At-Risk Youth were provided supportive services and job readiness preparation by our network of One-Stop Centers, Job Corps sites, and Community & Faith-Based Organizations
Our data sources estimate that these business clients have paid $4,935,198.19 in wages* to the individuals they have hired through the Business Resource Group
*
---
The Urban Institute Evaluates The Partnership's YODP
The purpose of this evaluation is to assess the implementation of the only demand-driven approach in four sites, including business involvement, services to target participants, relationship to the workforce development/one-stop system, and participant outcomes.
---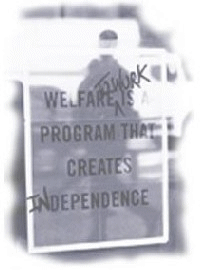 The Welfare to Work Partnership's Mission and Vision reflect a progressive business intermediary approach to social responsibility.
---
"The overwhelming majority of unemployed Americans, who are now walking the streets and receiving private and public relief, would indefinitely prefer to work. We can take a vast army of these unemployed out into healthful surroundings. We can eliminate to some extent at least the threat that enforced idleness brings to spiritual and moral stability."
Franklin Delano Roosevelt, from speech titled Three Essentials for Unemployment Relief, March 21, 1933
---
August 22, marked the 14th Anniversary of Welfare Reform in this country. Click here to learn more about the history of welfare and how far it has come to.
---